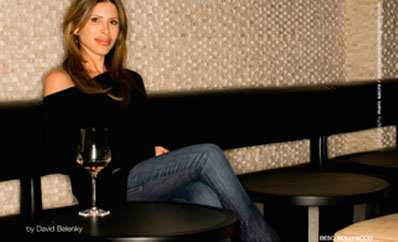 Designer, Tracie Butler, is the founder and president of Tracie Butler Interior Design. Butler's seamless mixture of textures, fabrics and color creates an energy of inspired elegance in every project she engages. Her intuitive and emotional approach to design is personal, fresh and innovative without a slavish devotion to any set of design rules.
Tracie was born and raised in Los Angeles. After studying Architecture and Design at UCLA. Butler interned for the prestigious Knoll Studio where she expanded her knowledge of working with unique textiles and innovative furniture design. Continuing to nurture and mature her natural dramatic flair and perceptive sense of expression, Butler assisted a variety of set designers in both the music and film industries. After several years of focused growth, Tracie opened Tracie Butler Interior Design, a firm that constantly pushes its own creative envelope into new stylistic directions as it creates personal style for each commercial and residential client.
Since opening in 2001, Tracie Butler Interior Design has renovated and designed the homes of Hollywood elites including industry executives, athletes and musicians. Simultaneously, Butler has lent her design skills to several of Los Angeles' finest restaurants and lounges. Most recently, Butler transformed Eva Longoria and Todd English's restaurant/lounge, 'Beso', where she focused on energetic resonance, juxtaposing the rustic architecture of the industrial space with a sensual blend of color, form and texture. Prior to Beso, Butler designed the popular nightclub Shag, Parc Restaurant and its sister lounge, Central. Images of Butler's venues and homes available upon request.
Butler's success and accomplishments perked the interest of Town & Country where she is featured in the October issue's "Born To Decorate." Story. Butler has also been highlighted in Los Angeles Magazine best of LA issue where she was awarded Best Bar Design of 2008 as well as a spot in the magazine's coffee table book, Design LA. Butler recently hosted an episode of NBC's "Open House" and many of her commercial and residential projects have been featured in the likes of Elle Décor, Angeleno, Wallpaper, LA Confidential, People Magazine and US Weekly to name a select few.